Life is too short to read a bad book.
Wednesday, December 19, 2007,9:00 PM
Pay It Forward
This is a sticky post. Please scroll down for new blog entries :-)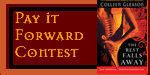 Colleen Gleason
is doing a Pay It Forward contest again this year. Please visit her blog and check it out!
Labels: Contests